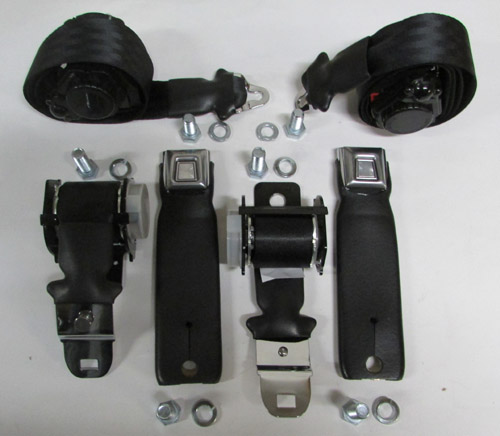 Car Set: Starburst Buckle
Product Notes: Click On Picture To Enlarge.
Black Only.Original dual retractor configuration. 7 panel webbing. Set includes retractable lap belt, independent horizontal mount emergency locking(ELR) shoulder harness retractors, web stops, buckle sleeves and replacement mounting hardware for driver and passenger.
Buckle: Metal with starburst/sunburst design on press area.
Lap retractor does not include dash warning light electrical connectors.
307K Car Set Retrofit Mounting Kit: Includes replacement zinc chromate hex head bolts, lock washers and threaded lap belt and shoulder harness underbody reinforcement plates which should be used when factory reinforcing plates are damaged or missing.
For product questions or ordering assistance call (302)629-8508.