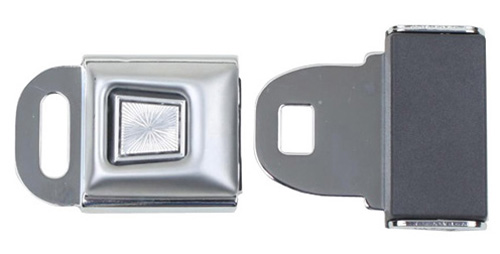 Buckle: Metal Push Button
Product Notes: Click On Picture To Enlarge.
Buckles not guaranteed to match existing buckle or connect to existing latch.
Fixed latch does not allow for webbing length adjustment.
Adjustable latch allows for webbing length adjustment.
For product questions or ordering assistance call (302)629-8508.

Starburst Buckle

Metal.
GM Logo Buckle
Manufactured under a GM reproduction license.
Metal. Measures 1 7/8" x 1/7/8" not including webbing slot.
Press area measures 9/16" x 5/8" long.
Press has GM Mark Of Excellence framed in silver on a black background.