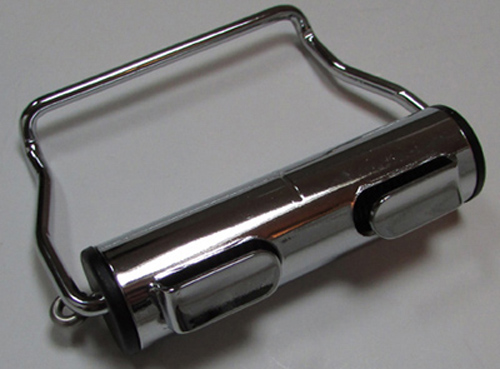 Non Retractable Lap Belts With 3 Panel Webbing
Product Notes: Click On Picture To Enlarge.
Special Order. Not Returnable. Allow additional 5-7 business days for production.
See Webbing Sample Page to view all available colors or to order samples.
Anchor End Fittings: Snap hooks. 2 7/8" W x 2 3/4" L. Opens 1/2".
Buckle: Aviator lift lid release with chrome lid and chrome underside. Measures 2 3/8" x 2 3/8".
Length 60": Adjustable buckle side 36". Fixed latch side 24".
Length 74": Adjustable buckle side 40". Fixed latch side 34".
80296 Retractor: Clip-on. Chrome 1950-60's style "Roll-A-Belt". Includes installation instructions.
For product questions or ordering assistance call (302)629-8508.

Mounting Hardware
A retrofit mounting kit which includes threaded underbody reinforcing plates to add support to the mounting points should be used when seat belts are being installed in a location they were not previously dealer or factory installed. Standard mounting kit is not required when ordering.
MH3 Standard Mounting Kit: Includes yellow zinc eyebolts, washers, nuts and oversize underbody reinforcing washers.
205K Retrofit Mounting Kit: Includes yellow zinc eyebolts and threaded underbody reinforcing plates.